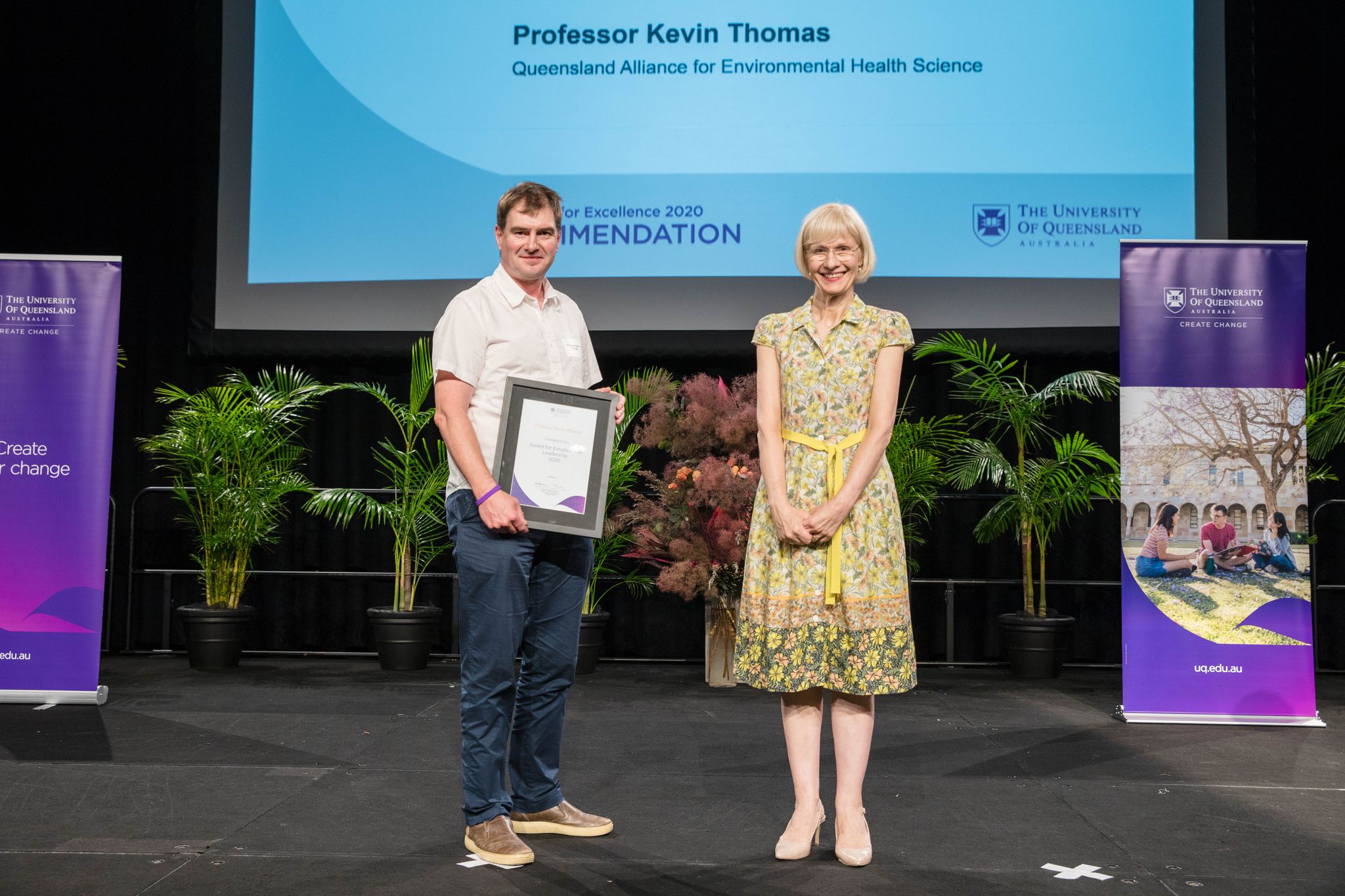 The UQ Excellence Awards celebrate our achievements over the past year, which is even more important to acknowledge in such unprecedented times. Each year the Awards Selection Committee are amazed by the outstanding contributions, innovative work and exemplary leadership demonstrated at UQ.
QAEHS Director Prof Kevin Thomas received a Commendation in the Leadership award category. This award recognises and celebrates exemplary leadership supporting a positive, performance-based culture and contributing to the achievements of UQ. 
Professor Kevin Thomas began as Director of the Queensland Alliance for Environmental Health Sciences (QAEHS) in 2017. Since then, QAEHS has secured over $22 million in external funding, relocated to Pharmacy Australia Centre of Excellence (PACE) and incorporated theme leaders from across five faculties, established excellent relationships with Queensland Health and a governance structure with strong external representation and become a world-leader in environmental health science, with productive staff in a harmonious workplace. Professor Thomas represents the best of UQ values.
A new category for the 2020 Awards was introduced, "Response to COVID-19" which received a total of 110 nominations.  The SARS-CoV-2 Early Warning Surveillance Team received a Commendation. The team was comprised of collaborators from CSIRO, QAEHS and the Australian Centre for Ecogenomics (ACE).
Together with Dr Warish Ahmed and colleagues from the Commonwealth Scientific and Industrial Research Organisation (CSIRO), this team of UQ researchers developed an early warning surveillance system to track COVID-19 prevalence in the Australian community through tracing the presence of the coronavirus gene, SARS-CoV-2, in raw sewage. The team published the first Australian proof of concept study, successfully demonstrating the presence of SARS-CoV-2 in the greater Brisbane community. Subsequent work adapted the approach to assess SARS-CoV-2 in cruise ship and plane wastewater. This new interdisciplinary team came together during the early first wave of the coronavirus pandemic to support national surveillance efforts. The team's outcomes are now contributing to regional programs to monitor, in conjunction with other testing strategies, the second wave of COVID-19 across the nation.
Congratulations to the whole team: Dr Warish Ahmed (CSIRO), Dr Stuart Simpson (CSIRO), Dr Paul Bertsch (CSIRO), Dr Leanne Dierens (ACE/CSIRO), Dr Nicola Angel (ACE), Ms Jannette Edson (ACE), Professor Phil Hugenholtz (ACE), Dr Juliean Zaugg (ACE), Professor Jochen Mueller (QAEHS), Professor Kevin Thomas (QAEHS), Dr Phil Choi (QAEHS), Dr Ben Tscharke (QAEHS), Jake O'Brien (QAEHS), Mr Rory Verhagen (QAEHS), Ms Katja Shimko (QAEHS), Ms Rose Nguyen (QAEHS), Ms Homa Teimouri (QAEHS), Ms Leah Clarke (QAEHS), Mr Olivier Cheneval (QAEHS).