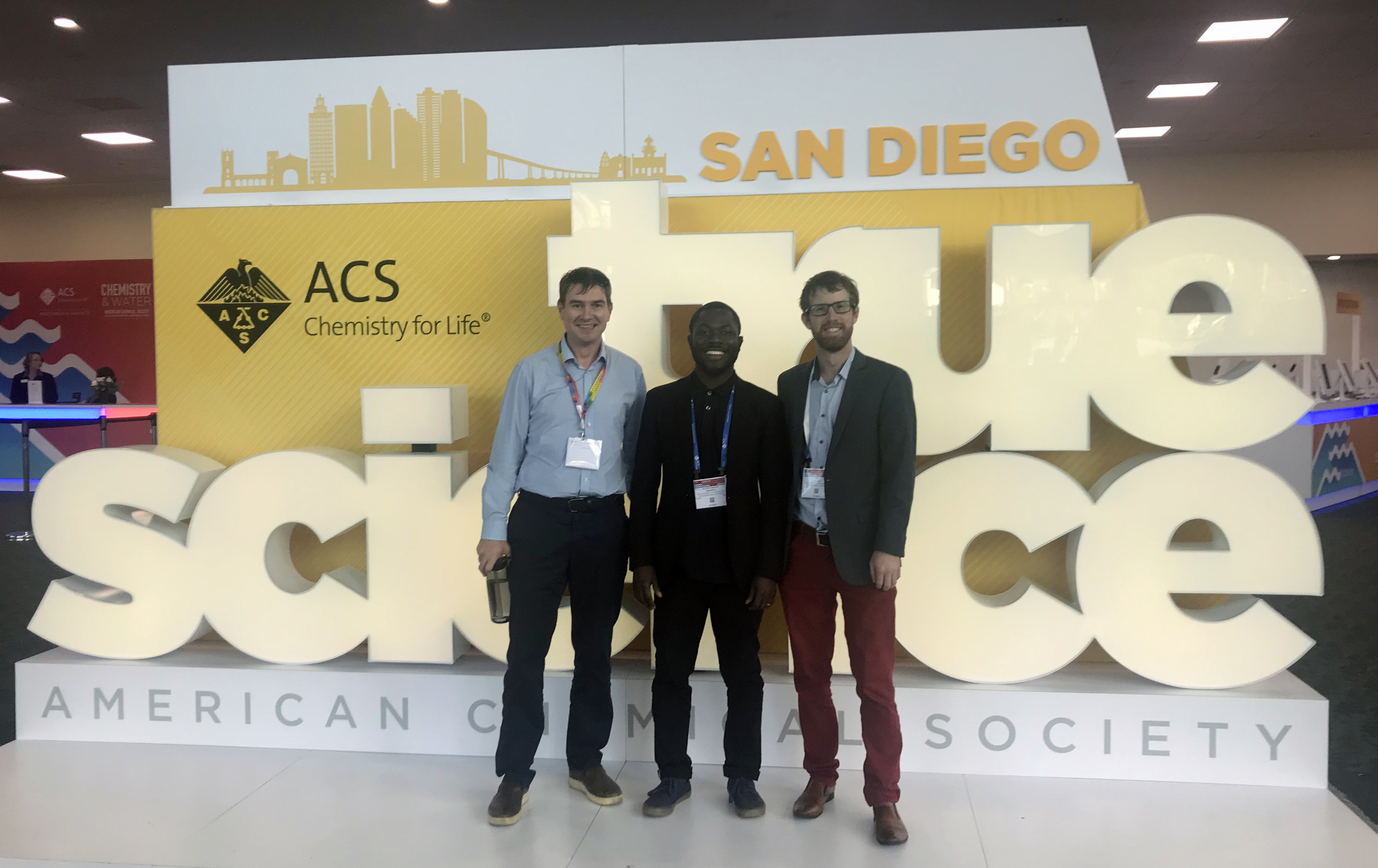 QAEHS staff Prof Kevin Thomas, Dr Phong Thai, Dr Jake O'Brien and PhD student Elvis Okoffo attended the American Chemical Society National Meeting & Exposition in San Diego, USA on August 25 – 29. QAEHS Director, Prof Thomas gave a keynote address on 'Expanding wastewater-based epidemiology to inform on public health' at the Wastewater Based Epidemiology Symposium as part of the ACS meeting.
QAEHS Senior Research Fellow Dr Phong Thai presented at the symposium on 'Monitoring opioid use through wastewater-based epidemiology: the case of methadone in Australia and China' and QAEHS Research Fellow Dr Jake O'Brien presented on the 'Implication of in-sewer stability testing of markers for wastewater-based epidemiology'.
PhD student Elvis was excited to attend his first international conference, "I was honored to present my research on Microplastics quantification in complex environment samples using combined solvent extraction and pyrolysis gas chromatography-mass spectrometry at the 258th American Chemical Society (ACS) National meeting in San Diego, CA. It was a wonderful opportunity to confer with my peers and pioneers in the field and enjoy their feedback. It was definitely a great experience and one I hope to repeat soon.  Special shout out and thank you to my mentor Professor Kevin Thomas and Dr Jake O'Brien for helping me prepare my presentation and the Queensland Alliance for Environmental Health Sciences (QAEHS) for funding my travel. I look forward to attending more conferences in the future."
The ACS National Meetings are where chemistry professionals meet to share ideas and advance scientific and technical knowledge. By attracting thousands of chemical professionals, the meeting provides excellent opportunities for sharing your passion for chemistry, connecting with the world's largest scientific society, and advancing your career in this ever-changing global economy.