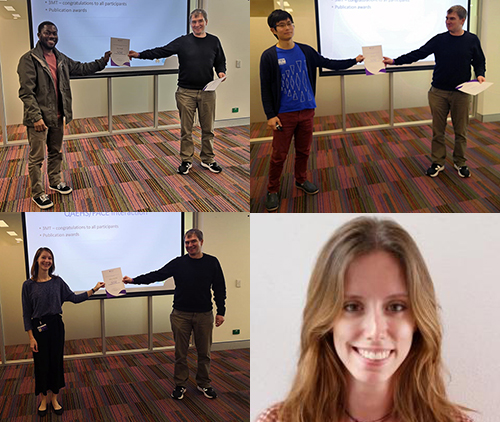 The QAEHS HDR Student Best Publication Awards (for papers published in 2019) were awarded on Tuesday. QAEHS students Elvis Okoffo and (now Dr) Phil Choi tied for first place with Elissa O'Malley and Francisca Ribeiro tied for third place for Best Publication from six publications. Each student will receive a certificate and a $1,000 prize.
Elvis says, "It doesn't matter who you are or where you come from - if you put quality work out there, it will be appreciated. Special shout out and congratulations to fellow QAEHS PhD student Stacey O'Brien and my mentor's Professor Kevin Thomas, Dr Jake O'Brien and Dr Ben Tscharke for making this possible."
Elvis' paper: Wastewater treatment plants as a source of plastics in the environment: a review of occurrence, methods for identification, quantification and fate published in Environmental Science Water Research and Technology.
Phil's paper: Social, demographic, and economic correlates of food and chemical consumption measured by wastewater-based epidemiology published in Proceedings of the National Academy of Sciences of the United States of America.
Elissa's paper: Per capita loads of organic UV filters in Australian wastewater influent published in Science of the Total Environment.
Francisca's paper: Accumulation and fate of nano- and micro-plastics and associated contaminants in organisms published in TRAC - Trends in Analytical Chemistry.
The HDR Student Best Publication Awards are maintained by annual funding from QAEHS to encourage and reward HDR students who are the primary authors of high quality publications.